Rent A Cart
We offer ice cream cart rentals for any special occasions! Rain or Shine, weekday or weekends!
Renting an ice cream cart and adding fun to your get-together has never been easier! We have
a large selection of ice cream carts, freezers and bikes available
, to suit your every need and occasion.
The wide ice cream flavors selection will help you serve your guests the fine quality products, which suit everyone's taste!
An ice cream cart can help bring excitement to all events and are enjoyed by people of all ages. Colourful, bright and with an umbrella and menu board; to stand out and add a bit of childlike fun to the party. Our ice cream freezers and ice cream carts are branded with either Nestle or Haagen-Dazs graphics.
We can help you with organizing customized graphics for your event / celebration. This allows in making the experience personalized and special for your guests. Our selected printers can help you get your company's logo, event theme, or any other branding on the cart for a very nominal price. We will procure them and have them installed on the carts for your event.
We will deliver the ice cream cart / freezer to your door, stocked with ice cream. Our helpful and friendly staff will help you setup and explain the features of the equipment to help you get going with your event.
We also have trained staff available to assist you during the events. They will help you serve the products.
Our ice cream carts have been a popular feature at birthday parties, staff appreciation days, tenant appreciation days, corporate events or just a simple surprise treat for your family, friends or colleagues. The variety of packaged ice cream allows a treat for everyone taste and liking.
All ice cream items are billed at wholesale rates!
Call us today for a quote: 416-663-5525! Or fill out this online form and we will be in touch soon.
Equipment
Nestle & Haagen-Dazs branded options are available for all carts.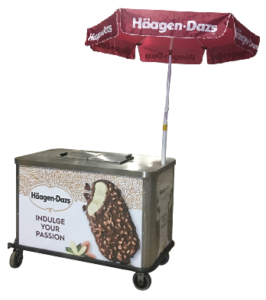 Push Cart 10 CT
55 ¼ x 34 ¾ x 45
KDC 47 – 46 ½ x 26 ¹¹⁄₁₆ x 50 ¹¹⁄₁₆
KDC 67 – 67 x 26 ¹¹⁄₁₆ x 50 ¹¹⁄₁₆
KDC 87 – 88 x 26 ¹¹⁄₁₆  x 50 ¹¹⁄₁₆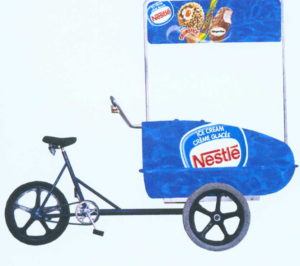 Bullet Bike